Abena Ntrakwah-Mensah
Ghana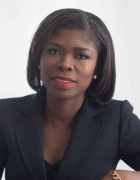 Ntrakwah & Co.
H/No. F37 Abafun Crescent
Labone, Accra
Ghana
Tel: + 233-302-777068/760776

Email: abena@ntrakwahandco.com
Web: www.ntrakwahandco.com
Abena Ntrakwah-Mensah is a Partner at Ntrakwah & Co; a leading Ghana based full service law firm.
Abena has vast experience advising both local and multinational companies on various aspects of labour & employment law in Ghana, Intellectual Property and Corporate Immigration. She heads the firm's Corporate, and IP Departments, and manages Corporate Profile Limited and Corporate Law Institute; the firm's subsidiaries. She has led several of Ghana's highest profile corporate transactions.
An excellent litigation lawyer with experience in all Ghanaian courts, Abena has drafted various commercial agreements and advised a number of corporate clients in and outside the courtroom. She has also represented clients in a number of arbitration proceedings, and conducted legal due diligence for several local and international clients.
Education:
Post Graduate Diploma in Law, City University, London (Inns of Court School of Law)
LLB. (Hons), Birmingham City University, Birmingham, England
Diploma in French: Alliance Francaise (Ghana)
Ghana School of Law (Post Call)
Associations
Bar of England and Wales, Ghana Bar Association, The International Bar Association, The Chartered Institute of Arbitrators (UK), The Honourable Society of Lincoln's Inn(UK) and the Corporate Law Institute.
Foreign businesses must adhere to extremely specific labour laws in Ghana. Ntrakwah & Co. are experts at helping multinationals navigate these laws to their own benefit—and the benefit of their Ghanaian employees.
Multijurisdictional Expertise
The firm works closely with our clients' management and human resources professionals to develop and maintain clear, carefully tailored employee handbooks and policies that adhere to Ghanaian labour laws.
Contracts and Policies
For more than three decades, the firm has acted as lawyers for multinational clients, advising them on every employment and immigration issue, including:
Drafting employment contracts that not only favour both parties equally, but that leave no room for misinterpretation or disputes
Representing clients in labour and employment disputes before the labour commission, and in litigation
Advising and drafting policies on corporate social responsibility, employment manuals, redundancies, trade unions and collective bargaining agreements
Advising clients how to terminate employment contracts to avoid wrongful dismissal suits
Securing various types of permits for expatriate staff of corporate bodies, including visas upon arrival, residence permits, and non-citizen cards
Doing business in Ghana without a trusted partner isn't difficult… it is nearly impossible. Since 1984, sophisticated companies from the capital city of Accra, across Ghana, and around the world have relied upon Ntrakwah & Co. to help navigate the challenges of Ghanaian law.
Ntrakwah & Co. combines the legal skills, professional integrity, experience and trustworthiness you're looking for, with an insider's knowledge of Ghana law. The firm has particular expertise in the fields of business law, intellectual property, tax, construction, litigation and international commercial arbitration.
Ntrakwah and Co.'s lawyers don't just know Ghanaian business law, they help create much of it. The firm has two business subsidiaries:
Corporate Law Institute, which trains professionals and promotes the development of corporate and commercial law practice in Ghana; and;
Corporate Profile Limited, which provides company secretarial services.
All of the firms' partners have been educated in England, the United States, and Ghana. They are fluent in both English and French.
The firms' legal services in Ghana include: corporate and commercial law; immigration and international employment; construction, litigation, intellectual property, international commercial arbitration; public private partnerships, real estate and taxation.
Ntrakwah and Co's particular Ghanaian industry expertise includes, e.g.: agriculture, aviation, banking and finance, energy(including solar and hydro-electric), sports and entertainment ,hospitality, insurance, manufacturing, maritime ,mining and natural resources, non-profit organisations, oil and gas, pharmaceutical, retail trade, telecommunications.
Abena Ntrakwah-Mensah was named the 2016 Employment Lawyer of the Year in Ghana by Employment Law Experts. She has been included in Who's Who Legal as a recommended adviser for Employment law since 2014.