Angelo Zambelli
Italy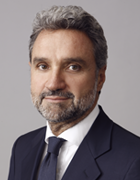 Grimaldi Studio Legale
Via F.lli Gabba 4
20121 Milan
Italy
Tel: +39 0230309390

Email:

azambelli@grimaldilex.com
Web:

www.grimaldilex.com
Angelo Zambelli is a partner, member of the Firm's Executive Committee and head of the Employment and Industrial Relations Department of the Firm.
Mr Zambelli amassed an outstanding reputation in employment and labour law, industrial relations and issues relating to agency contracts and labour law disputes acquiring in-depth knowledge of the planning and implementation of extraordinary finance operations and restructuring plans, including the reorganisation and downsizing of subsidiaries of Italian and international groups. Mr Zambelli works side by side with clients advising them on handling complicated industrial relations matters and often represents companies during negotiations.
After earning his JD magna cum laude at the Università degli Studi of Milan in 1987, Angelo Zambelli became a member of the Milan Bar Association in 1992. Since 2004, Mr Zambelli is qualified to plead before the higher courts as well as the Italian Supreme Court (Corte di Cassazione).
He is also a member of AGI, of AIDP, member of EELA and representant for Italy for ELA, as well as member of ABA and IBA.
He is an established lecturer at many conferences organised by Il Sole 24 Ore, Synergia, AIDP (Associazione Italiana per la Direzione del Personale), AGI (Associazione Giuslavoristi Italiani), EELA (European Employment Lawyers Association), IBA (International Bar Association), ELA (Employment Law Alliance) and ABA (American Bar Association).
Prior to joining Grimaldi Studio Legale, Angelo Zambelli was a founding member and managing partner of LabLaw Studio Legale. He was also partner at the law firms of McDermott Will & Emery/Carnelutti Studio Legale Associato and Toffoletto e Soci.
Mr Zambelli is ranked among the top 30 leaders Lawyers in Italy, developed by Legalcommunity and GQ – magazine published by Condé Nast – which has listed professionals who stand out for managerial skills, strategic vision and media impact.
He won the Labour Award for Best Lawyer of the Year at the Legalcommunity's 2017, 2015 and 2014 editions, as well as the Award for Best Lawyer of the Year for Industrial and Trade Unions (2012 and 2013 editions).
According to a Survey made by Legalcommunity, it has resulted that since the last three years Mr. Zambelli is one of the four/five employment lawyers to have been classified as a "Star" in the Labour market in Italy, being one of the lawyers who has obtained the highest number of positive comments and referrals from important stakeholders in the market, including competitors.
The firm has extensive experience on employment law, industrial relations and related litigation, and in-depth knowledge of the system of laws and regulations governing employment relationships.
As trusted advisor to industrial, financing and commercial companies and groups, the Employment Law and Industrial Relations Department provides on-going assistance in matters related to the management of human resources, employment relationships and employment related litigation.
The firm has successfully addressed many legal disputes relating to all issues of employment law and also effectively resolved numerous issues involving company reorganisations in the engineering, iron and steel, chemical and pharmaceutical, petrochemical, publishing, finance and banking sectors.
The department has been awarded as "Law Firm of the Year – Labour Restructuring" at the Legalcommunity Labour Awards 2016.
Grimaldi Studio Legale has been one of the most significant law firms in the Italian legal scenario for over 20 years, initially as the Italian partner of the firm Clifford Chance and subsequently as an independent law firm.
Situated in Milan, Rome, Brussels and London, Bari and Lugano with 36 partners and more than 150 highly qualified lawyers and trainees, the Firm is a leader in the legal services marketplace.
Sources "can only say good things" about Angelo Zambelli, who continues to be lauded for being an "excellent employment lawyer." Interviewees also note that he is "a great guy". Market commentators note that the firm is "well known for employment". One client highlights that working with them is always a "good experience."