Annie Elfassi
Luxembourg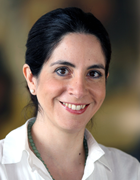 Loyens & Loeff
18-20, rue Edward Steichen
L-2540 Luxembourg
Luxembourg
Tel: +352 466 230 480

Email:

annie.elfassi@loyensloeff.com
Web:

www.loyensloeff.com
Annie Elfassi, attorney-at-law, is a member of the Employment Law practice and the Commercial and Litigation Departments of Loyens & Loeff in Luxembourg.
Annie has extensive experience in handling complex matters involving multidisciplinary areas, including employment and pension benefits, social security aspects, corporate and restructuring involving employment law, commercial litigation, IP rights, insolvency procedure, debt collection.
In addition, Annie has significant experience of handling commercial litigation as well as employment litigation for both claimants and defendants. She has also been involved in transactional and arbitration work.
Before joining Loyens & Loeff, Annie worked for several years for a leading Luxembourg law firm. She also worked for several years in Paris (France) in a law firm, as well as in the insurance sector.
Annie is a member of the European Employment Lawyers Association (EELA) and the Employment Law Specialists Association (ELSA). She is also member of the Camera di Commercio Italo-Lussemburghese (CCIL) and of the Associazione Internazionale Giuristi di Lingua Italiana (AIGLI).
Annie is qualified to practice in both Luxembourg and France. She is a member of the Luxembourg Bar.
Our specialists give advice and provide solutions in the areas of labour law, payroll taxes, social insurances, pensions and immigration. This could include preparing and reviewing employment contracts or expat-agreements, (collective) redundancies, the legal position of the statutory director, the labour law aspects of mergers and acquisitions, reorganisations, intra-group secondment, conducting judicial proceedings concerning for example pension or indexation claims, application of the 30% ruling, salary splits, option and share plans or reviewing the tax aspects of employment conditions.
If your company has offices in several countries, then you have come to the right address. Our practice group is specialised in Dutch, Belgian, Luxembourg and Swiss law. Moreover, we can rely on a worldwide network of international offices in all major financial centres. Also, we would like to refer to our publications in the lower right-hand corner of the page in which we provide employers with useful tips for activities with a cross-border nature (under publications).
As a leading firm, Loyens & Loeff is the natural choice for a legal and tax partner if you do business in or from the Netherlands, Belgium, Luxembourg and Switzerland, our home markets. You can count on personal advice from any of our 900 advisers based in one of our offices in the Benelux and Switzerland or in key financial centres around the world. Thanks to our full-service practice, specific sector experience and thorough understanding of the market, our advisers comprehend exactly what you need.
As a fully independent law firm, Loyens & Loeff is excellently positioned to coordinate international tax and legal matters. We have our own network of offices in major financial centres, staffed with specialists in Dutch, Belgian, Luxembourg and Swiss law. Through these offices, our clients have access to Loyens & Loeff's full-service legal expertise in their own time zone. Our office network is complemented by our several country desks all of which are experienced in structuring investments all over the world. It's a winning combination that enables us to assist international clients in a very effective way. Moreover, we are on excellent terms with other leading independent law firms and tax consultants. That way, we can guarantee you top-level advice in every part of the world.
"Annie Elfassi of Loyens & Loeff heads the firm's employment practice and has specialised knowledge in pensions benefits, social security and corporate restructuring. She is also an experienced employment litigator. Clients appreciate her diligence and expertise: "She is extremely attentive, cooperative and has a really broad knowledge in different fields of law."