William C. Martucci
USA: D.C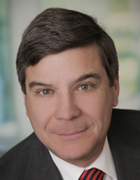 Shook, Hardy & Bacon L.L.P.
1155 F Street NW, Suite 200
Washington, D.C. 20004
United States
Tel: 816 559 2196

Email:

wmartucci@shb.com
Web:

www.shb.com
Bill practices nationally in business and employment litigation, with a focus on complex class action (employment discrimination and wage & hour) litigation. Chambers USA: America's Leading Lawyers for Business notes "Bill Martucci is worth having on any dream team for litigation and policy issues." Bill is widely regarded as an exceptional trial lawyer and innovative policy strategist. He is listed in The Best Lawyers in America in both Business Litigation and Employment Litigation, Euromoney Guide to the World's Leading Labour & Employment Lawyers, Lawdragon Guide to World Class (Most Powerful) Employment Lawyers, and Who's Who Legal: The International Who's Who of Business Lawyers. His jury work has been featured in The National Law Journal. He teaches Multinational Business Policy and the Global Workplace at Georgetown.
Bill was highlighted in the debut edition of Chambers USA as one of the highest-rated corporate litigation lawyers. According to Chambers, the Shook national employment practice group has been "lauded for both its class action work and its effective advice to employers on federal compliancy issues. Bill Martucci is highly esteemed as an employment litigator." The Chambers analysis notes: "Bill Martucci garners the admiration and respect of peers and clients for his 'tenacious' litigation skills and 'breadth of knowledge' on employment policy issues. His ability to 'effectively' communicate an employer's point of view to a jury has impressed many interviewees, who also point to his success in establishing a client base that contains a number of Fortune 500 names."
More recently, Chambers USA described Bill as "'a phenomenal litigator and a great lawyer'… lauded for his comprehensive knowledge of employment law and expertise in class action litigation." Previous editions noted: "A whirlwind of an attorney, Bill Martucci is a practitioner of great national prominence. Praised as 'the most formidable attorney,' his courtroom style is subtle yet winning. Clients say: 'His trial skills and work ethic are second to none.' . . . Outside the courtroom, he is also an authoritative advisor and educator for his clients." Lawdragon and Human Resource Executive named Bill as one of America's Most Powerful Employment Lawyers. Human Resource Executive reported that attorneys on the list "represent the best of the best, and embody the qualities that HR leaders should look for when picking a defense lawyer." The magazine notes that attorneys selected represent headline clients and have dealt with the toughest of issues currently facing employers.
Working as part of a trial team, presenting and winning cases on behalf of companies before juries and advising corporate clients concerning effective business and human resources practices are the primary activities in which Bill engages. He has successfully tried a number of jury cases and has effectively resolved a variety of class action cases. His litigation docket is national in scope with cases throughout the United States. His primary practice areas focus on complex class action (employment discrimination and wage & hour) litigation, Equal Employment Opportunity Commission litigation, unfair competition litigation and business litigation.
In the traditional labor relations field, Bill has been involved in a number of NLRB representations, as well as serving as strategic labor relations counsel for national companies. In addition, he has served as the lead negotiator or strategic advisor in labor-relations matters spanning single locations to regional and national arrangements. In that context, he is regarded as effective, straightforward, and a strong communicator both with the operational management team and the union.

Employment litigation is among the fastest growing areas of civil litigation, and corporate employers are hit with an increasing amount of new wage-and-hour, benefits or regulatory-compliance lawsuits every day. Headline-grabbing protests have sparked complaints across the country of insufficient wages or missing overtime pay, and corporate employers need effective, knowledgeable counsel more than ever.
Singled out for its employment successes on The National Law Journal's "Defense Hot List" and by The College of Labor and Employment Lawyers, Shook, Hardy & Bacon's employment litigation team exclusively represents corporate employers—including as national counsel for a number of Fortune 500 companies throughout the United States. Our approach is distinguished by our creative, cost-effective litigation strategies, and we often blur the traditional litigation specialty lines to offer clients the breadth of Shook's world-class litigation experience.
Our attorneys focus on early case evaluation, effective motion practice and favorable summary judgment outcomes, as well as jury trials. In addition, this practice has extensive experience representing clients before the entire spectrum of quasi-judicial tribunals, including the Equal Employment Opportunity Commission, the U.S. Department of Labor, the National Labor Relations Board, state and local administrative agencies, and in alternative dispute resolution proceedings.

Shook, Hardy & Bacon has long been recognized as one of the premier litigation defense firms in the country. For more than a century, the firm has defended companies in their most substantial national and international products liability, mass tort and complex litigation matters.
The firm has leveraged its complex products liability litigation expertise to expand into several other practice areas and advance its mission of "being the best in the world at providing creative and practical solutions at unsurpassed value." As a result, the firm has built nationally recognized practices in areas such as intellectual property, environmental and toxic tort, employment litigation, commercial litigation, government enforcement and compliance, and public policy.

"William Martucci serves as the labor and employment practice head. His disputes-focused practice includes a strong focus on class actions and arbitrations. He is praised by sources from across the market for being "an excellent trial attorney" and described as a "real strategist in the courtroom."