Robert S. Turk
USA: Florida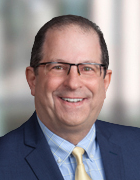 Stearns Weaver Miller
150 West Flagler Street
Suite 2200
Miami, FL 33130
Tel: +1 305 789 3460

Email: rturk@stearnsweaver.com
Web: www.stearnsweaver.com

Robert "Bob" S. Turk is a Shareholder in the Firm and the Chair of the Labor & Employment Department. He also serves as a member of the Firm's Board of Directors. He practices in the areas of employment litigation, wage and hour representation, supervisory training, employment audits, equal employment opportunity claims, affirmative action, union avoidance, wrongful discharge, employment and union contracts, trade secrets contracts, non-competition agreements, employment policies, drug-free workplace policies and representation of unionized employers in collective bargaining.
Bob is a past Chair of the Labor & Employment Law Section of The Florida Bar and a past President of the Academy of Florida Management Attorneys. He is actively involved with the South Florida Hospitality Human Resources Association. He also lectures regularly to various legal and business groups.
Employment Law Practice:
We understand that our clients are in an extremely competitive business market and that employers (large and small in both the public and private sectors) need timely, practical business-oriented advice on labor and employment issues. We also understand that "human resources" are not a commodity, but real people with real workplace problems that are often difficult for our clients to address alone. We believe that partnering with our clients to provide strategic preventive counseling, training (in English, Spanish and Creole), audits and legal representation is the best antidote to complex and challenging workplace problems.
We also believe that if our clients become involved in a lawsuit, grievance, arbitration, claim of discrimination or wrongful discharge in any legal forum, they each deserve ethical and zealous representation. We are experienced trial attorneys, not just "litigators." We are also labor attorneys with "in the trenches" experience in dealing with unions seeking to represent blue collar, white collar and professional employees.
Stearns Weaver Miller:
Stearns Weaver Miller is a full-service law firm serving clients throughout Florida, nationwide and internationally.
With offices in Miami, Fort Lauderdale, Tampa and Tallahassee, we offer multidisciplinary solutions with a focus on bankruptcy & creditors' rights, corporate & securities, labor & employment, land development, zoning, environmental & government affairs, litigation & dispute resolution, real estate and tax, trusts & estates.


"Robert Turk is a "fabulous lawyer" who is praised for "his very strong knowledge of the law." He is chair of the firm's labor and employment department and is recognized for a broad practice that encompasses matters such as discrimination litigation, wage and hour matters and union avoidance strategies."