Charles G. Meyer III
USA: Virginia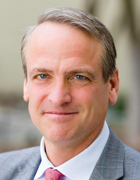 O'Hagan Meyer
411 E. Franklin, Suite 500
Richmond, VA 23219
United States
Tel: 804-403-7101

Email: cmeyer@ohaganmeyer.com
Web: www.ohaganmeyer.com

Mr. Meyer's practice focuses on employment litigation and counseling, and he represents employers in a wide variety of employment litigation matters, including defense of wrongful discharge claims; breach of employment contracts and restrictive covenants; disability discrimination claims under the ADA; age discrimination claims under the Age Discrimination in Employment Act; actions filed under the Family Medical Leave Act and Fair Labor Standards Act; and claims of unlawful harassment and race and gender discrimination under Title VII and Section 1981.
In addition to representing clients in labor and employment matters, Mr. Meyer's practice includes representing clients in professional liability, D&O, commercial, product liability and other civil actions. Mr. Meyer has successfully tried more than sixty jury trials and numerous bench trials in state and federal court. He also regularly represents employers before the Equal Employment Opportunity Commission and the Virginia Employment Commission, and he has successfully represented clients before the Virginia Supreme Court and the Fourth Circuit Court of Appeals.
Prior to joining O'Hagan Meyer, Mr. Meyer was a Vice President and shareholder of LeClairRyan where he chaired the firm's Labor and Employment Practice Team. He also served as in-house counsel for United States Fidelity & Guaranty Company and previously was associated with McGuire, Woods, Battle & Boothe. Mr. Meyer has been selected for the Best Lawyers in America (Labor and Employment) and Virginia Business Magazine's "Legal Elite." Mr. Meyer is Chair of the Professional Lines Attorneys Network ("PLAN") and serves on the Board of the Richmond Bar Association. He is an active member of the International Association of Defense Counsel, the Virginia Bar Association, and the Virginia Association of Defense Attorneys. Mr. Meyer also serves on the Board of the Virginia Chamber of Commerce and on the Chamber's Management Relations Committee.
Employment Law Practice:
O'Hagan Meyer's Labor and Employment Team works closely with our clients to develop effective strategies and policies to avoid employment litigation, resolve employee disputes, and successfully dismiss labor and employment claims when lawsuits, NLRB arbitrations, EEOC, and Unfair Labor Practice charges are filed. We help companies across the nation achieve their business objectives while managing and minimizing their legal risks, difficulties and expenses.
Our labor and employment attorneys routinely defend employers against claims in individual and class actions and in federal and state courts nationwide. We have a depth of experience handling an array of employment claims, including discrimination, harassment, retaliation, failure to pay wages or benefits, breach of contract, wrongful termination, negligent hiring or retention, and defamation.
Our goal is to minimize the impact of employment claims and litigation on our client's business. We understand how to defend and dismiss these cases, and routinely defend employers' interests before the U.S. Equal Employment Opportunity Commission, the U.S. Department of Labor, the National Labor Relations Board, and in federal and state courts across the country.
O'Hagan Meyer:
While corporate, nonprofit, association and individual clients hire O'Hagan Meyer attorneys because of our broad and deep expertise, stellar reputation and outstanding track record in the courtroom, they rehire us primarily because of one key attribute: we tell it like it is. When a case or matter comes to us, we examine it thoroughly but quickly and if we and our client believe we should litigate, we'll roll up our sleeves and fight to win. But if we determine that it's in the client's best interest to settle, we'll say so, explain why and get rid of the problem as fast and efficiently as possible. We're straight shooters, straight away.
Our lawyers come from some of the nation's largest, most prestigious law firms where we've honed our skills on the ins-and-outs of a wide range of litigation and employment-related matters. But we serve our clients in a smaller-firm setting. What does that mean? It means we provide laser-like focus to every aspect of your legal needs. We're responsive and accountable in ways that many big firms aren't and we develop long-term personal relationships with our clients. We don't simply try to make our year with your case, we want to make our careers by serving you and doing the right thing at the right time.


"Charles Meyer is a "very well-respected" employment attorney based at O'Hagan Meyer PLLC. He is recognized for his expert handling of litigation, including defending against FLSA actions, discrimination suits and harassment claims."