Francisco della Maggiora
Chile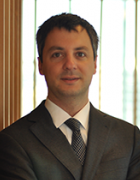 Della Maggiora, Eyzaguirre, Ferrada Abogados
Isidora Goyenechea 3250
piso 14 Las Condes
Santiago, Chile
Tel: +562 2499 5990

Email:

fdellamaggiora@dmey.cl
Web:

www.dmey.cl
Francisco della Maggiora focuses in all areas of labour law, social security and immigration for multinational and local corporations. Formerly part of the labour departments of Claro y Cía. and Philippi Irarrázaval Pulido y Brunner, he was also head of the labour department at Urenda Rencoret Orrego y Dörr.
Mr. della Maggiora is recognized by Chambers and Partners Latin América 2018. Also ranked in previous editions since 2013. Co-author of the Chambers & Partners Global Practice Guide on Employment 2018 and member of the 5 Star Law Association (www.5starlaw.com).
He has contributed to several leading publications in both national and foreign media.
The Firm's practice is focused on advising national and foreign companies on labor issues, social security and immigration, including general consultancy, labour relationships, litigation, collective bargaining processes, terminations and large lay-offs, audits, visas and immigration, internal policies and regulations, remuneration and benefits, taxation of employees, pensions, health and work safety.
The firm mainly advise companies in the areas of mining, computer science, agriculture, transportation, energy, financial institutions, construction, engineering and manufacturing industry.
The Labour and Employment practice area is recognized by Chambers and Partners Latin América 2018.
"Labour and employment boutique noted for its expertise in the full spectrum of sector-related matters, including social security and immigration. Provides day-to-day advice to domestic and foreign companies from a range of market sectors.
"The firm produces high-quality work. Their lawyers are knowledgeable and prompt. Their experience allows them to provide practical and useful solutions to the issues at hand."
"Practice co-head Francisco della Maggiora is praised by one client as "an extremely knowledgeable lawyer," while another adds: "He has got a practical and insightful approach. He is skilled at envisaging situations in which the clients might find themselves."