Frederik Brocks
Denmark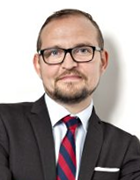 Skau Reipurth & Partnere
Amaliegade 37
DK-1256 Copenhagen K
Denmark
Tel: +45 38 41 14 26

Email:

fbr@skaureipurth.com
Web:

www.skaureipurth.com
Frederik Brocks is specialized in employment and labour law and has extensive experience within these areas.
He advises Danish as well as international clients concerning terminations, cases concerning discriminations and equal treatment, the handling of employees in connection with restructuring processes and mergers and acquisitions, and drafting of various contracts, HR guidelines and company policies form a large part of Frederik Brocks´ work.
As a particular expertise, Frederik Brocks has worked extensively with negotiation and disputes regarding the entering into, renewal or interpretation of collective agreements.
International employment relationships, including the handling of foreign workers in Denmark and expatriations are also part of Frederik Brocks' expertise.
Frederik Brocks works with dispute resolution and frequently appears before the ordinary courts, the Danish Labour Court, the Danish Board of Dismissals and industrial arbitration tribunals.
In addition, Frederik Brocks advises small and middle-sized companies and businesses on contract law, general commercial law and disputes.
Frederik Brocks speaks English and the Scandinavian languages.
Skau Reipurth & Partners has extensive experience in advising in all areas of labour and employment law. We offer advice to companies, individuals and unions regarding all aspects of establishment, modification or termination of employment relationships etc.
Our Services Include:
Terminations, warnings, severance agreements etc.
Collective agreements, including the negotiation and interpretation of collective agreements
Conflict resolution
Contracts, personnel policies and staff handbooks
Contractual relationships with executive officers, particularly the remuneration parameters
Freelance agreements, consultancy agreements, etc.
Restrictive covenants
Equal treatment
Holiday, leave, illness and other absences
Drafting and implementation of HR policies
Handling of interviews with employees, for instance employment interviews, sickness absences interviews and performance appraisals.
Mergers and acquisitions, restructurings, etc.
Redundancies
Remote working, including expatriations/hiring-out and recruitment/employment of foreign labor
Drafting and implementation of incentive programs
Public labour law
Recruitment
Personal data processing
Temporary agency workers
Trainees/apprentices
Employee elected board members
Information and consultation of employees
Skau Reipurth & Partnere has one of the strongest teams in the various areas of commercial law.
Our mission is to combine the very best professional standards with uncompromising integrity. We take pride in providing personal advice based on value-creating commercial know-how.
Being trusted with complex legal problems comes with great responsibility and we gladly assume this responsibility and will always endeavour to solve these problems based on our core values: Professional standards, dedication and results.
Skau Reipurth & Partnere wishes to be a law firm that our employees are proud to be part of. We cultivate a dynamic and ambitious corporate culture attracting the business' most talented lawyers.
Our vision is to be Denmark's most attractive law firm for both clients and colleagues.
"Skau Reipurth & Partnere acts for employers and employees, as well as labour unions. 'Superb' group head Frederik Brocks has been representing Pharmadanmark in a dispute regarding the union's collective agreement with the Danish Pharmaceutical Association."