Jan L. Backer
Norway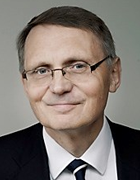 Wikborg Rein
Olav Kyrresgt
11 5014 Bergen
Norway
Tel: +47 22 82 76 14

Jan L. Backer is a partner at Wikborg Rein's Oslo office. He is heading our employment practice. Backer has an extensive experience in advising companies and industry clients on a broad range of issues. He has considerable experience in international transactions. Backer has worked on employment law issues for more than 20 years.
His general knowledge of and long-term relationship with management in business and industry makes him a valuable advisor with respect to contractual issues, termination and other questions relating to the management. He is frequently been used for discussing and preparing pension arrangements as well as advising on conflicts pertaining to pension issues. Backer has been much involved in reorganizations and downscaling. He is a member of the Norwegian Bar Association's Panel for employment law. Backer is recommended by Chambers and Partners as "Leaders in their field" in the category Employment.
Wikborg Rein is an international law firm with over 230 lawyers located in Oslo, Bergen, London, Singapore, Shanghai and Kobe. Our unique and long-standing presence overseas enables us to offer our clients the benefit of our extensive international expertise.
Headquartered in Oslo, Norway, we offer a full range of legal services to our domestic and international clients. Our extensive international experience and expertise is unique, with many of our partners having spent time working abroad or in-house working with their clients.
Wikborg Rein's broad range of legal services includes the following: corporate; dispute resolution; real estate and construction; banking and finance; shipping and offshore; trade, industry and public sector (including technology, media and telecommunications); energy and natural resources.
In the shipping and offshore fields together with banking and finance the firm is able to provide services under both Norwegian and English law. The firm has a dedicated team of tax lawyers with notable experience in cross-border taxation matters. In addition the firm regularly advises on the application of European law and on all aspects relevant to Norway's position as a member of the EEA.

Wikborg Rein has a strong practice group focused on employment law. The group offers clients a broad range of services, and is characterised by the firm's international connections as well as numerous assignments within the public sector. We provide assistance to clients on the full range of employment matters from transactional and advisory work to dispute resolution. The firm's employment law group has seen notable growth in the number of assignments over previous years.
There is a growing awareness among employees and companies of the various rights and obligations found in employment agreements; whether these are individual agreements or collective agreements. This includes not only issues relating to termination and dismissals, but also negotiations on employee benefits and incentives, bonus schemes, holiday entitlement and work hours. Both employers and employees are often required to address the demands and issues surrounding employment relationships and we work with our clients to identify potential issues and provide practical and timely solutions.
We understand the importance of precise and well-drafted employment agreements in all employment relationships and we offer our clients longstanding experience and expertise in the negotiation and drafting of employment agreements, termination agreements and matters relating to employment terms.. The group is frequently involved in negotiations of redundancy agreements.
The employment law group is regularly involved in the firm's general transactional and advisory work relating to acquisitions and due diligence. Through the years we have assisted in numerous large-scale redundancies.
Pensions are attracting increasing attention, whether they are state pensions, agreement-based pensions or a company's own pension schemes. We have broad experience and in-depth knowledge of pensions law and its related issues, particularly with the interpretation of these agreements and developing pension schemes for businesses.
The group also has considerable expertise related to integrity issues, such as ethics, corruption and whistle blowing. The employment law group is often involved in research assignments.
Wikborg Rein's employment law group comprises 10 highly-skilled lawyers based in our offices in Oslo and Bergen, led by partner Jan L. Backer. With our longstanding experience we provide efficient and practical advice to our clients at short notice. The group also draws on the firm's considerable technical and commercial expertise to give an additional depth of perspective when providing advice to clients.

"Jan Backer is described as an "excellent employment lawyer" who leaves "very strong impressions" with his work. He frequently advises clients in the public sector and also represents executives and high-level managers, including recently acting for Richard Aa, the former finance director of Telenor, on his employment rights in agreeing a severance package from the company."