Manishi Pathak
India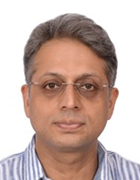 Cyril Amarchand Mangaldas
4th Floor, Prius Platinum, D-3
District Centre, Saket
New Delhi – 110 017, India
Tel: +91 9599487105

Email:

manishi.pathak@cyrilshroff.com
Web:

www.cyrilshroff.com
Manishi specialises in employment law, mergers & acquisitions, joint ventures and regulatory/compliance matters including general corporate law advisory matters. He has handled several critical employment law matters, JVs, M&A transactions for clients based in jurisdictions such as Japan, U.S.A, Singapore, Thailand, and Europe.
His employment law experience includes drafting and advising on employment documentation to employee's handbook/manual, stock option schemes, termination of employees, closure of undertakings, transfer of employees and/or various litigation pending before conciliation officers, tribunals/courts including High Courts/ Supreme Court.
Manishi has been listed as a "Who's Who" of Indian practitioners of labour and employment laws from 2009 to 2017 consecutively. He is recognised by Chambers and Partners as a leading employment law practitioner / notable practitioner since 2012.
Manishi has authored articles and/or chapters in publications of international repute on corporate governance, employment laws, foreign investment laws and M&A, etc. He is an officer of the Employment and Industrial Relations Committee of the International Bar Association (IBA) and also on the Executive Committee of Ius Laboris. Manishi has also been a speaker on many conferences of the IBA on various topics such as employment laws and/or employee relations, vendor finance, etc

Our employment practice group primarily provides regulatory advice to employer organisations in India and overseas, covering the entire spectrum of employment issues from hiring to termination, and encompassing all relevant aspects such as:
• Employee benefits
• Whistle blower laws
• Non-compete arrangements
• Privacy and confidentiality
• Data protection
• Sexual harassment
• General regulatory compliance.
In addition to regulatory and general advice, our employment practice group advises on the employment-related aspects of business and commercial transactions such as mergers, acquisitions, restructurings, joint ventures, business transfers, and closures of operations or undertakings, and also supports other practice groups at the Firm in their transactions.
In contentious matters, our lawyers advise and represent clients in employment-related litigation before labour courts, industrial tribunals, and also the various High Courts and the Supreme Court of India.

"Manishi Pathak co-heads the team and has a great deal of experience advising multinational firms on Indian employment law. His areas of focus include business closures, M&A and employee-related litigation, and sources praise his ability to work seamlessly with clients. "He advised us very clearly on the pros and cons for our company – it was really valuable advice," notes one interviewee."