Oscar Torres
Venezuela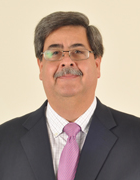 Travieso Evans Arria Rengel & Paz
Edificio Atlantic, Piso 6
Los Palos Grandes
Caracas, Venezuela
Tel: +58 212 918 3333

Email: otb@traviesoevans.com
Web: www.traviesoevans.com
Member of Travieso Evans Arria Rengel & Paz since 1983 and became a partner of the Firm in 1994.
He graduated from Universidad Católica Andrés Bello, Caracas,Venezuela, in 1982. He completed postgraduate studies at New York University and obtained a Master's degree in Comparative Jurisprudence in 1983. He completed advanced studies on Labor Law at Universidad Central de Venezuela. He took courses on Bargaining of Collective Agreements at the Instituto de Estudios Superiores de Administración (IESA) in 1991.
He has participated as a speaker in several forums on Labor Law and the Amendment to the Organic Labor Law nationwide. He is a member of the Caracas Bar Association and an active member of the International Bar Association. He is a member of VENAMCHAM's Social Alliance Committee.

Practice of labor law in Venezuela has become very complex given the highly protective nature of the regulations that govern labor relationships. We are proud to have a labor law department that can help guide our clients through the full spectrum of employment relations, acting as advisors in labor and union matters, negotiators in all type of employment contracts, and representing our clients before judicial and administrative authorities. Our aim is to help our clients avoid conflicts with their employees and with union and guild associations which may represent them, but at the same time we defend vigorously and forcefully any challenges that may arise. Our attorneys have participated actively in forums, committees and other organizations dealing with the interpretation and enforcement of the Venezuelan Labor Law and other social legislation governing this matter. Our attorneys have also ample experience in the negotiation of collective labor contracts.
As to Health and Safety at Work, which matter is closely related to labor relationships, we advise our clients on the performance of legal obligations pursuant to the provisions of the Organic Law on Prevention, Work Conditions and Environment (in Spanish, LOPCYMAT) and offer legal assistance with all procedures that may be pursued by the labor protection agency (INPSASEL for its name in Spanish).

Travieso Evans Arria Rengel & Paz was founded in 1920. Its founder was Dr. José María Travieso Paul, who associated with a New York law firm specializing in Latin American mining and petroleum law founded by Edward Shuster, who was at that time considered the greatest US authority on Latin American Law.
The firm originally specialized in petroleum law and branched into mining law in representing U.S. Steel in the development of the famous Cerro Bolívar iron mountain complex and its Puerto Ordaz project. Although the firm continues to have an extremely prestigious portfolio of petroleum clients, it has, for the last 60 years or more, been just as strong in general corporate, tax, labor, litigation and environmental areas. It has also created an affiliate, TEHAR, s.c., which offers all services related to the registration and management of intellectual property.
The firm maintains offices in the cities of Caracas, Valencia, Barquisimeto, Maracaibo, Puerto La Cruz y Maturín. It is also associated with other law firms in Latin America and Europe and is a member of the prestigious "Club de Abogados" and "Lawyers Associated Worldwide". The law firm corresponds in English, Spanish and Italian. For several consecutive years we have been recognized among the five most important firms in the country by Chambers Latin America.
Our firm is organized following state-of-the-art globalized standards for practice of law, with all attorneys dedicating their full time to the firm. The firm consists of 46 lawyers and several legal assistants. Today the firm has a professional and administrative staff of over 100.
Although Travieso Evans Arria Rengel & Paz is considered a large firm for Venezuelan standards, we still view ourselves as a growing firm, although we are extremely careful in our selection of new attorneys. Most of our lawyers have completed graduate work in prestigious law schools from the United States and Europe, such as Harvard, Yale, Columbia, New York University, University of California, Tulane and Instituto de Empresa (Madrid), as well as specialized postgraduate studies at the most recognized universities in Venezuela.

"Head of department Oscar Torres has over 30 years' experience working in the area. He is held in high esteem by sources, who say he is "extraordinary in the interpretation and application of law." In addition, "he is extremely practical and has a very good reputation in the market."