Rafael E. Aguiló-Vélez
Puerto Rico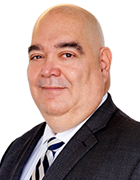 Schuster Aguiló LLC (member of Littler Global)
221 Ponce de León Ave, 15th Floor
San Juan, PR 00917-3128
Puerto Rico
Tel: +1 (787) 765-0090

Email:

raguilo@littler.com
Web:

www.littler.com/littler-global
Rafael E. Aguiló-Vélez is a co-founder of Schuster Aguiló LLC (member of Littler Global). He focuses his practice on labor and employment law and is an experienced trial lawyer in civil litigation. He has argued before the Puerto Rico office of the National Labor Relations Board and actively practices before federal and Puerto Rico courts and administrative agencies. He has tried hundreds of cases, and he also provides preventive counseling to employers as a skilled negotiator of settlements and collective bargaining agreements. His experience includes representing corporate entities in the areas of:
Wrongful dismissal
Discrimination
Sexual harassment
Wage and hour
Workers' compensation
Distribution contracts
Torts
Breach of contract litigation
Rafael frequently presents seminars to business organizations, as well as, customized seminars targeting the specific needs and business realities of each client. Before founding Schuster Aguiló, Rafael served as a special aide to the Secretary of Justice of Puerto Rico and ran his own private practice. Prior to his legal career, he held several management positions at a national retailer, was president of a home improvements company in Milwaukee and operated his own printing business.
We guide employers through the mine field laid by the interaction of myriad state statutes with federal laws and regulations, and the fact that Puerto Rico is not an employment at will jurisdiction. Training on termination, documentation, sexual harassment and discrimination preventive practices, employment litigation under all federal and state statutes, non-competition agreements, workers' compensation, counseling on matters relating to plant closings, downsizings and workforce restructurings, and unjust dismissal actions are but some of the areas in which we routinely work with management.
We also help employers develop and implement employee relations' policies designed to minimize risk, assure compliance with statutes such as the FMLA and the ADA, and avoid costly and time consuming litigation. In the area of agency representation, we regularly appear before the EEOC and various state and local fair employment practice agencies in response to administrative charges of discrimination.
The Puerto Rico office was originally established in 1995 and has grown steadily, with an ever expanding base of corporate clients. We offer and emphasize the importance of preventive counseling and training, for which we maintain close communication with clients for consultation and advice before a matter reaches litigation, to minimize costs.
We represent clients in all areas of labor and employment, employee benefits and general commercial and business litigation matters before all Puerto Rico administrative and judicial fora, provide seminars and training sessions for clients and business community groups, and also engage in all areas of practice in connection with traditional Labor Law. Our attorneys have experience achieving motions to dismiss and for summary judgment, and also routinely try cases to conclusion, at the trial and appellate levels in federal and Puerto Rico courts and administrative agencies.
Active practice with noted experience advising clients on issues across the full spectrum of the labour and employment field, including corporate immigration, discrimination and compliance issues. A client praises the firm's work, stating: "The lawyers are highly knowledgeable of the needs of their clients and very eager to help."