Robert P. Brooks
USA: Rhode Island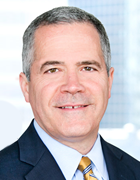 Adler Pollock & Sheehan P.C.
One Citizens Plaza, 8th Floor
Providence, RI 02903-1345
United States
Tel: 401.274.7200

Email:

rbrooks@apslaw.com
Web:

www.apslaw.com
Robert P. Brooks is the firm's Managing Partner and Chairman of the firm's Labor and Employment Law Group. He represents management in all facets of labor relations and employment law in the public and private sectors.
Bob's labor and employment experience includes counseling employers on day-to-day personnel administration as well as on such complex administrative law issues as OSHA compliance and wage and hour issues under the Fair Labor Standards Act. Bob also regularly and successfully handles collective bargaining negotiations and the defense of union organizing campaigns. He has successfully represented employers in employment discrimination matters, and represents employers in a wide variety of labor arbitration and administrative proceedings. In addition, he lectures frequently to groups and private companies on many of the issues facing human resource professionals on a daily basis.
Bob is Immediate Past President of the Board of Governors of the Boys & Girls Clubs of Providence and he is the recipient of the RI Bar Association's Dorothy Lohmann Community Service Award, given in recognition for his work with the Boys and Girls Clubs. He serves on the AP&S Executive Committee and is a member of its Diversity Committee.

AP&S attorneys assist public and private-sector employers, both unionized and union-free, in complying with complex laws and avoiding litigation by dealing with employees effectively, fairly and legally. In addition to providing day-to-day employment counseling, we also handle the ever-changing array of matters facing employers today, including:
National Labor Relations Board matters;
Collective bargaining;
Defending against unfair labor practice and other charges under FLSA, Title VII, ADA, FMLA, OSHA and other laws;
Representing employers before government agencies and tribunals;
Dealing with virtually every aspect of employment relationships.
We work hand-in-hand with employers to anticipate and short-circuit issues before they become major problems, drafting smart policies and useful employee handbooks, counseling employers on various federal and state statutes, conducting management and employee training, assisting in force reductions and plant closings, and negotiating and drafting employment agreements.

Adler Pollock & Sheehan P.C. is a business-oriented, full-service law firm committed to providing clients with the highest levels of legal service through a wide variety of practice areas in our Providence, Rhode Island; Newport, Rhode Island; Boston, Massachusetts; and Manchester, New Hampshire offices. We are proud of a demonstrated record of achievement, sustained by a genuine and deep-rooted commitment to the ideals of the legal profession. The core of the AP&S approach is a focus on the client which is evident in the personal partner-level attention each client receives. We pride ourselves on always striving to increase efficiencies and effectiveness, always considering the view through the client's lens—from fair and innovative billing practices and round-the-clock access to the intelligent application of the latest technology for efficient management of complex legal issues.
Since the founding of the firm in 1960, AP&S has become one of the region's most respected and successful business law practices with more than 60 lawyers in Providence, Boston and New Hampshire.
"Robert Brooks chairs the labor and employment group. He advises employers on compliance and is also noted for his work in collective bargaining negotiations. "He is an excellent advocate for the company," reports one impressed client."