Sang Hoon Park
South Korea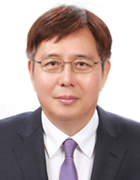 Yoon & Yang
18th Floor, ASEM Tower
Seoul, South Korea
135-798
Tel: 82-2-6003-7548

Email: parksh@yoonyang.com
Web: www.yoonyang.com
Sang Hoon Park is a partner at Yoon & Yang LLC. His main practice areas are labor and administrative law.
Prior to joining Yoon & Yang, he held a series of important posts, including Presiding Judge of the Suwon District Court, Chief Judge of the Jeongeup Branch of the Jeonju District Court, Judge of the Seoul High Court, Judge of the Seoul Central District Court (dispatched to the Constitutional Court), and Presiding Judge of the Seoul Administrative Court. Park continues his research on labor law for the Labor Law Research Society of the Seoul National University and the Labor Law Practice Research Society of the Supreme Court, where he is a founding member.
Park is acclaimed for his involvement with a seminal case, chosen as the case of 2008 by Hagyeore 21, involving the recognition of an illegally dispatched worker's employment status. Park is also well-known for his work involving the prohibition of identifying a fetus's sex, regarding which he has made arguments before the Constitutional Court and obtained the Court's recognition of unconstitutionality. He continues to be recognized for his outstanding performance in labor and administrative law.
Yoon & Yang LLC's Employment & Labor Practice Group is comprised of employment lawyers, certified labor affairs consultants and foreign legal advisors who provide preventative, practical and detailed legal counseling on a full range of legal problems that may occur in the area of labor relations and industrial accidents. In response to labor disputes, our Group renders expert legal advisory services by actively participating in negotiations and engaging in defense activities by representing the client in various procedures before the Labor Commission and courts.
In the past, corporations were predominantly faced with individual labor relations issues such as simple correctional measures, unemployment and related matters. However, recent developments in the field of labor relations and industrial accidents, including the reinforced regulation through the enactment of special bylaws, the reconstitution of ordinary wages law and the restructuring of retirement wage policy, the implementation of performance budget wage system, the need to determine legality of intra-company subcontractor laborers and non-regular workers, short-term and long-term maintenance of poor-performers, increased need for pre-vetting of collective agreements and employment agreements, maintenance of multiple labor unions and the reinforcement of penalties for unfair labor has given rise to numerous issues and conflicts which has made active company restructuring and a priori control a necessity for stable corporate management.
Our Group has the highest expertise and capability to deal with any labor related issues including individual or collective labor relations that may arise within a company, and we work closely with clients to reach collaborative solutions.
Yoon & Yang LLC is one of the leading law firms in Korea providing the highest quality legal services with experience and expertise in corporate affairs, international transactions and all areas of litigation.
Since its establishment in February 2003 through the merger of two leading firms in Korea, Yoon & Partners (which was recognized as a world-class law firm in the areas of corporate advisory, M&A, antitrust, IP and finance) and Roh & Yang (which was recognized as a top litigation law firm), Yoon & Yang LLC has achieved unprecedented growth as a result of the successful combination of the specialized practices of the two firms.
In March 2006, the firm merged with Kim Shin & Yu, a pioneer and leading law firm in Korea for decades in international transactions and a wide scope of practice areas.

"Head of department Sang Hoon Park is well regarded for his skill in litigious labour and employment mandates, with previous experience as presiding judge of the Seoul Administrative Court. Work highlights include acting for KAMCO in a case brought by a temporary employee regarding wage and welfare benefit discrimination."