Stephen Jauncey
Australia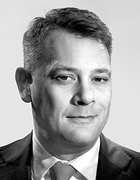 Henry Davis York
44 Martin Place
Sydney NSW 2000
Australia
Tel: +61 2 9947 6507

Email: stephen.jauncey@hdy.com.au
Web: https://www.hdy.com.au

Stephen acts for a range of major institutions and large government agencies. He specialises in the retail and government sectors, as well as in managing insolvency related employment issues.
Stephen regularly appears before Fair Work Australia, and has acted in a number of major test cases on the new Fair Work Act. He recently appeared in an important Full Bench case dealing with dispute settlement provisions in enterprise agreements.
Stephen has extensive expertise in negotiating, drafting and interpreting industrial agreements, dealing with unions and resolving industrial disputes. He was heavily involved in negotiating the largest enterprise agreement in Australia (which covers over 96,000 employees). His clients value his focus on finding practical commercial solutions aligned to long-term workplace relations and employment strategies.
Stephen has a track record of managing employment and workplace relations issues associated with major corporate restructures, as well as the acquisition of new businesses. He advises on preparing and negotiating executive contracts, and dealing with executive termination matters. He has dealt with employment contracts relating to CEOs and MDs in the retail, property, finance, IT and business services industries.
Employment & Safety Law Practice:
Our workplace relations and safety team assist our clients in navigating the complex maze of employment and safety rights and obligations in a way that is aligned to their unique operational needs and strategic objectives.
We are proud to work with some of the biggest employers in Australia in both the corporate and government sectors. We have special expertise in the government, financial services and retail sectors.
We advise over 30 government organisations on a full range of employment, industrial relations and safety matters. We work for both Commonwealth and NSW government agencies such as the Department of Defence, Transport for NSW, NSW Police Force and NSW Health and numerous local government agencies, including the City of Sydney and Waverley Council.
Our team also acts for the biggest private sector employers in Australia including Woolworths, 2 of the Big 4 Australian Banks and large insurers. We frequently advise these clients on their most sensitive matters. We work with them, often at short notice, to resolve disputes and protect their business interests. This includes making and defending urgent applications for injunctive relief, conducting workplace investigations, as well as attending critical safety incidents or dealing with industrial action as a corporate 'first responder'.
Henry Davis York:
HDY is one of Australia's leading independent law firms. We transform ideas and knowledge into outcomes that matter to our clients, our people and our community.
We know what we're good at and what we love doing and we focus on this. This alignment of focus, expertise and insight has given us a strong reputation for partnering with clients in the financial services and government sectors.
We advise a range of clients including some of Australia's most iconic businesses, the Big 4 Australian Banks, regulatory bodies and government departments and agencies, national and international fund managers and property developers.
"Clients describe Stephen Jauncey as "impressive" because "he understands our business very well so is able to provide really tailored legal advice." His work highlights include acting for the Retail Council, an industry group comprising major retailers, before the Road Safety Remuneration Tribunal."