Thomas P. Owens, III
USA: Alaska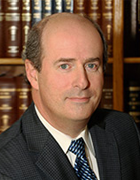 Burr Pease & Kurtz
810 N Street
Suite 300
Anchorage, AK 99501
Tel: (907) 276-6100

Email:

tpo@bpk.com
Web:

www.bpk.com
Thomas P. Owens, III, a life-long Alaskan, attended Duke University and received his law degree in 1990 from Duke University Law School. He began developing his practice in employment and labor law soon after arriving at Burr & Pease & Kurtz in 1990. He has served as the firm's Managing Shareholder since 2001. He advises employers about discrimination, sexual harassment, wage and hour claims, wrongful termination, and employment benefits and represents employers in related litigation. Tom has published articles on the subjects of at-will employment and public policy discharge law in Alaska and has presented public seminars on various aspects of employer liability.
Tom also provides investigative services for those employers, large and small, that require objective, third-party investigations into allegations of workplace misconduct. Tom conducts anonymous work environment surveys for employers who want to proactively manage the workplace, learning what employees think about their employment and identifying problems while they are still small and manageable, before they ripen into legal claims or turnover expenses.
Tom has been certified as a Senior Human Resource Professional (SPHR)by the Human Resource Certification Institute and he is a member of the National Society for Human Resource Management and the Alaska Society for Human Resource Management. Tom brings a practical, preventative approach to employment disputes by working to avoid costly litigation where possible and to minimize the possibilities of legal disputes in the future. Toward those goals, Tom frequently reviews, revises and prepares employment manuals, analyzes personnel policies, cleans up employment application forms, checks disability and other leave policies and practices, and reviews, revises and prepares termination documentation. He is available to conduct on-site training sessions with managers concerning important legal issues including sexual harassment liability, discrimination issues, disability and religious accommodation, and wage & hour compliance. Tom will also serve as a neutral investigator of allegations concerning workplace harassment or other misconduct.

Workplace Investigations
Wrongful Discharge
Sexual Harassment
Breach of Contract
Wage and Hour Laws
Employees with Disabilities
Discrimination
Burr, Pease & Kurtz has represented individuals and businesses in Alaska since 1957. The firm offers experience and expertise in a variety of legal disciplines for national, international and local clients with interests throughout the state and takes pride in its reputation for delivering the highest quality legal services.
The firms key areas of expertise include:
Alternative Dispute Resolution
Commercial Business and Real Estate
Construction Law
Employment Law
Litigation
Natural Resources
Trusts and Estate Planning
Workers Compensation
From 2003 through 2017, Tom has been voted by his peers as one of "The Best Lawyers in America" in the field of employment law. Best Lawyers has named Tom the "2014 Lawyer of the Year" in the field of Employment Law. That distinction has been repeated for 2015 and 2016.