Timothy M. McConville
USA: Virginia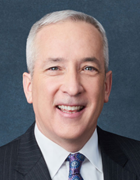 Odin, Feldman & Pittleman, P.C.
1775 Wiehle Avenue, Suite 400
Reston, Virginia 20190
United States
Tel: (703) 218-2119

Email:

timothy.mcconville@ofplaw.com
Web:

www.ofplaw.com
Fortune 500 and smaller employers alike rely on Tim McConville's years of experience representing management in labor and employment law matters. He brings a unique perspective to his management-side practice based on his prior leadership at the National Right to Work Legal Defense Foundation, where he represented individuals subjected to compulsory unionism abuses.
His practice involves all aspects of labor relations, including collective bargaining, grievance and arbitration cases, and unfair labor practice and other cases before the National Labor Relations Board (NLRB) and in the courts. He has significant experience on the management side in representation cases before the NLRB, helping to devise and implement strategies for union-free workplaces.
Tim leads the firm's Labor and Employment practice group, and he is an accomplished litigator, defending employers in Virginia, Maryland, the District of Columbia, and other locations around the United States. He represents clients before the EEOC, the DOL and other agencies. He defends against claims brought under Title VII of the Civil Rights Act of 1964, the Age Discrimination in Employment Act (ADEA), the Pregnancy Discrimination Act, the Americans with Disabilities Act (ADA), the Fair Labor Standards Act (FLSA), the Service Contract Act (SCA), wage-and-hour laws, the Employee Income Retirement and Security Act (ERISA), the National Labor Relations Act (NLRA), and state and local human rights codes. His litigation practice includes cases arising from non-competition agreements and the misappropriation of trade secrets.
Tim counsels employers on all aspects of employment law including executive employment agreements; policies, procedures, and practices; hiring, retention, promotion, compensation, discipline, and termination practices; solving the most difficult issues under the FMLA and ADA; and, for government contractors, legal requirements enforced by the Office of Federal Contract Compliance Programs (OFCCP). In investigation matters, Tim assists clients confronted by sexual and racial harassment allegations, discrimination claims, wage-hour issues, union problems, employee theft, duty of loyalty and ethical breaches, and destruction of property. Tim also provides training seminars on a variety of labor and employment topics.
Tim is the Chairman and President of the National Institute for Labor Relations Research, Inc. He is also the editor of and primary contributor to Labor and Employment Law Cocktail, a reporting on labor and employment law with a focus on national news and developments in Virginia, Maryland, and Washington, D.C.
Employment disputes can disrupt productivity, corporate growth, and, in the worst cases, employee morale. That's why the labor and employment attorneys at Odin, Feldman & Pittleman work closely with business clients to craft proactive plans that prevent and discourage disruption in the workplace and improve employee relations, thereby allowing the organization to remain focused on its primary goal: driving the business forward.
We counsel business clients in all aspects of labor and employment law, from employee benefits and retirement plans to executive compensation and employment agreements. We represent employers—large and small—to deliver personnel advice, provide counseling and training for senior leaders and implement labor relations strategies that maintain a union-free workplace.
Negotiation sometimes falls short of resolution, leaving litigation as the best and only remaining option. In such cases, when going to court becomes unavoidable, our labor and employment litigators leverage their depth of experience, knowledge of the law and successful track record of defending business clients against employee claims to design an aggressive courtroom strategy.
Odin, Feldman & Pittleman, P.C., is a full-service law firm with more than 60 attorneys offering experience in a wide range of practice areas.
The firm's attorneys partner with each client to understand how legal issues could affect the client's enterprise, finances and strategic outcomes, always assisting the client to weigh risks, costs and benefits. This approach has fostered client relationships that span decades. Learn more about the firm at www.ofplaw.com.

Tim has received an AV rating, the highest rating given by Martindale-Hubbell® Peer Review Ratings™, for his legal ability and general ethical standards. He has also been named among Virginia Business magazine's "Legal Elite" for labor and employment law for the past six years and, for the past eight years, has been consistently selected by his peers for inclusion in The Best Lawyers in America® listing in the areas of Employment, Labor Law‐Management, and Litigation‐Labor Law.